Vacuum Duty Twin Lobe Blower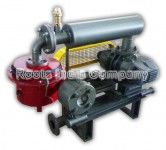 This Twin -Lobe Vacuum Blowers have been redesigned to incorporate the latest technology for reduced noise and vibration. These heavy-duty rotary positive vacuum blowers are designed for continuous service for many Applications & operations.
These twin lobe low pressure compressors are being used in vacuum duty. In vacuum duty the compressor can create 0.6 Kg/cm2 Pressure.
Inquiry